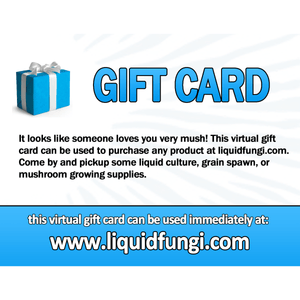 Want to show Mush appreciation or celebrations?
Tell someone how Mush you really Love them? 
Give some ushy Mushy gifts!? 
We have you covered! If you know someone who loves mushroom growing, but you have no idea what to get them, this might be the perfect solution for you! Simply get them this virtual gift card and it can be used to purchase any product on liquidfungi.com.
Liquid culture, grain spawn, plug spawn, even grow supplies. Your gift card will be available immediately! 
Show someone "mush" love with this wonderful gift card to liquidfungi.com.